Chrissy Amphlett, an icon of Australian music known for her distinctive performance style and her "schoolgirl in fishnet stockings" rock image, has died following a battle with breast cancer.
Often referred to as a trailblazer and pioneer for women in the music industry, the lead singer of The Divinyls will be best remembered for the hit single I Touch Myself and for giving women a public voice, at a time when there was no space for them to be heard.
Her rise to fame began after she met fellow band member Mark McEntee at a concert in 1980, and together with Jeremy Paul, they formed the Divinyls shortly after.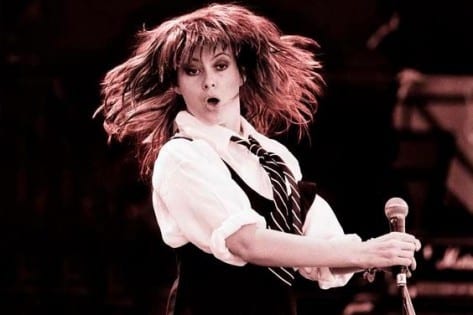 After years on the pub-tour route, performing live gigs around Sydney, the band recorded several songs to be used on the soundtrack of the film Monkey Grip. They soon scored their first hit with Boys In Town.
In 1991 the band reached the peak of their popularity with the release and subsequent international success of the single I Touch Myself, which reached Number 1 in Australia, 10 in the UK and 4 in the US.
Between 1982-1996 the band released six albums amidst an ever changing lineup.
Amphlett's visual trademark was her onstage get up, decked out in a school uniform and fishnet stockings. In 2005 she explained the distinctive look she took on stage was her way of taking back the control of her public image and the attitudes of people around her.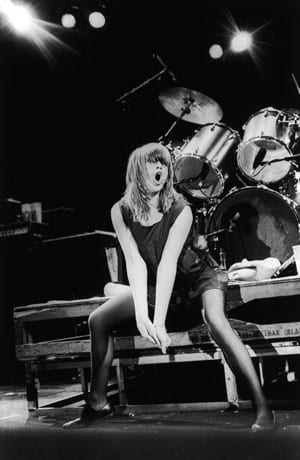 I was having a lot of trouble singing the lyrics and being able to project and Vince Lovegrove, our manager took me to an ACDC concert… and the next day I went out and bought a school uniform, suspenders and stockings. It inspired me and it freed me up and I took it out on everyone.
I was shy on-stage and it was me trying to find this persona that I would then be able to project and perform these songs on stage & I just couldn't find it but once I had the school uniform it gave me something to react against.
I was surrounded by so many men and so the uniform was (me giving) the finger to everyone. And the audience, as they tried to think that they could have their way with me, I would react and get in first… and become this monster and then I had the power.
After disbanding in 2006, the Divinyls reunited when they were inducted into the ARIA Hall Of Fame and continued touring the following year.
Amphlett's skills as a songwriter was highlighted by Science Fiction, which was selected by the Australian Performing Rights Association (APRA) in 2001 as one of the top Australian songs of all time.
"Chrissy trail blazed rock and roll, not only for women in this country but for the whole Australian music scene and she was one of those people that when she hit the stage it was a hundred miles an hour," former manager Andrew McManus.
Amphlett based herself in New York City with her husband, writing her autobiography, Pleasure and Pain: My Life
and concentrating on her solo and musical career.
She was diagnosed with MS in 1998 and in a 2010 interview with Sunday Night she announced that she was also battling breast cancer.
"It's shit and it's unfair, but life is not fair – even rock stars get breast cancer. But there've been many girls before me who have dealt with it successfully. It's easy to feel sorry for me but I feel sorry for people who are suffering it alone".
She continued working on new music while undergoing medical treatment.
Her husband and former Divinyls drummer Charley Drayton said in a statement that Amphlett died in her sleep, surrounded by close friends and family.
"Christine Joy Amphlett succumbed to the effects of breast cancer and multiple sclerosis, diseases she vigorously fought with exceptional bravery and dignity".
"Chrissy's light burns so very brightly. Hers was a life of passion and creativity. She always lived it to the fullest. With her force of character and vocal strength, she paved the way for strong, sexy, outspoken women" .
A close friend of Amphlett, Countdown host Ian 'Molly' Meldrum said yesterday that Amphlett was a ground-breaker for Australian musicians.
"She broke ground for women in Australian music, she was amazing and fearless," Meldrum said.